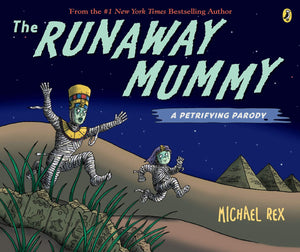 The Runaway Mummy: A Petrifying Parody
A hysterical (and creepy) parody of a children's classic! Filled with uproarious illustrations, a beloved classic gets a kindhearted send-up in this utterly monsterized parody from Michael Rex, creator of the New York Times bestselling Goodnight Goon. This is The Runaway Bunny like you've never seen it before. A fabulous Halloween treat for all those little monsters!
About the Author
Michael Rex lives in New Jersey. He's a big fan of The Runaway Bunny by Margaret Wise Brown and Clement Hurd but feels that it's biased against giant trampling monsters and man-eating plants.
Product details
Paperback: 32 pages
Dimensions: 8.38 x 0.13 x 10 inches
Reading Level: 3-5 years
Publisher: Puffin Books
---