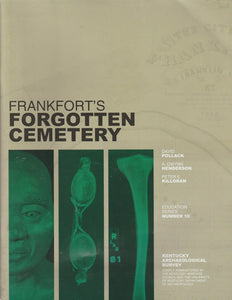 Frankfort's Forgotten Cemetery Book
For over 150 years, one of Frankfort's earliest cemeteries lay buried and forgotten at the base of Fort Hill, no more than three blocks from Kentucky's Old State Capitol. Construction activities "rediscovered" this integrated burial ground in 2002.
Over the course of its use, from the early 1800s to about 1850, the Cemetery became a graveyard for Frankfort's working class, the poor, immigrants, and undoubtedly, the enslaved. The documentary record had little to say about this cemetery. Archaeologists and biological anthropologists pieced together a picture of these people, who they were and when and how they lived, by relying on each person's skeletal remains, the personal items placed with or worn by them, the characteristics of their coffins, and the location of their graves to in order. The story of Frankfort's antebellum poor and working class is one that is rarely told in history books, but through archaeology, their voices can now be heard.
---